Indy News Update #2 for May 30, 2011
Submit your Indy news and results to: AdamMartin@wrestleview.com
Devin Cutting sent this in:
Robbie E will be at the D2W event in Wharton, New Jersey on June 3rd, 2011. Go to http://d2wprowrestling.com for info about the event and http://wherewrestlinghappens.tk or http://prowrestlingevents.webs.com for info about upcoming wrestling shows worldwide.
---
Marvin Ward
sent this in:
Awesome Wrestling Entertainment (AWE), presents an AWEsome Night of the Legends on Saturday October 15, 2011 at Augusta Expo in Fishersville, VA. This will be the largest legends wrestling event to come to the Shenandoah Valley. There will be 7 huge matches and a pre show autograph party for the fans including some of the most famous legends and superstars in professional wrestling.
Already Signed:
3 Time WCW World Heavyweight Champion: DIAMOND DALLAS PAGE
WWE/WCW Superstar: FIT FINLAY
WWE Hall of Famer: HACKSAW JIM DUGGAN
4 Horseman: TULLY BLANCHARD & BABY DOLL
WWE Superstar: EUGENE
Tag Team Legend: BEAUTIFUL BOBBY EATON
WCW Superstar: GORGEOUS GEORGE
More Legends & Superstars announcements coming soon!
TICKETS GO ON SALE ONLINE JUNE 1, 2011
VIP Ringside: $35 – Rows 1 & 2: Includes Commemorative souvenir booklet and early entrance into pre show autograph party.
Ringside: $25
General Admission: $20
For all information log onto AWE's official website: www.awesomewrestlingentertainment.com or Facebook: www.facebook.com/
---
Aaron Patton
sent this in: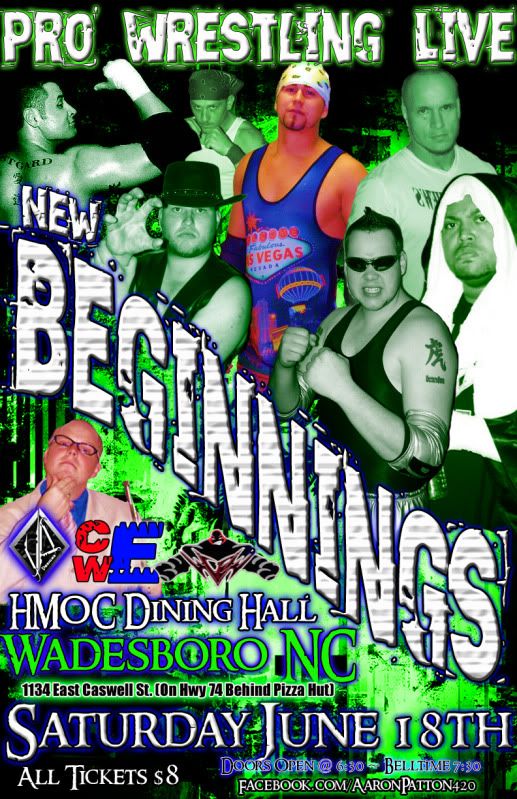 World Class Extreme Wrestling
and Carolina Wrestling Entertainment
Presents…
"New Beginnings"
***LIVE*** Saturday Night, June 18th 2011
Harvest Ministries Dining Hall ~ Wadesboro NC
1134 East Caswell Street – On HWY 74 Right Behind Pizza Hut
Doors open at 6:30pm ~ Belltime 7:30pm
(Many changes are happening in WCEW, with the merger with CWE there have been front office changes. All champions from both companys have been stripped. Lots of talent changes with some mainstays gone and lots of new blood debuting. Don't miss as WCEW/CWE and Harvest Ministries presents "NEW BEGINNINGS"…)
~ MAIN EVENT – Former WCEW Heavyweight Champion "The Knockout Artist" Ali Steele Takes on Former CWE Heavyweight Champion Scotty Matthews….
~ Ostguard tries to continue his winning ways when he faces the returning Cade Sydal….
~ As this is NEW BEGINNINGS, 4 wrestlers debut to make their Impact in WCEW/CWE and they are, Justin Lee, The Iceman, Josh Adams and Ross Vegas….
~ Stephen B Esquire makes claims that his NEW "Money Clip" featuring BD Productions, Stan Braddick and "The Nature Boy" Shawn Sharpe will go undefeated at "NEW BEGINNINGS"… .
~ Also scheduled to appear at "NEW BEGINNINGS"… "The Cowboy" Cletus Bass, AJ Stone, Richie Blaisdell, Randy B Studdly, Evan Lee Devine and many more! ! ! ! !