Michael Lombardi sent this in.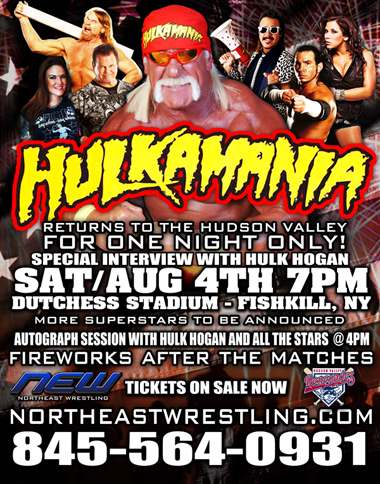 TICKETS ON SALE!
Wrestling Under The Stars on August 4 in Fishkill, NY
Northeast Wrestling and the Hudson Valley Renegades
Present
Wrestling Under the Stars
Saturday, August 4th – 7 p.m.
Dutchess Stadium, Fishkill, NY
The matches start at 7 p.m. with a fireworks display after the event.
Hulk Hogan – the biggest star in the history of professional wrestling – will be a part of a special meet and greet with all of his fans beginning at 3:30 p.m. He will also be doing an interview addressing all of his fans. Meet and greet for all other superstars begins at 4 p.m.
Unlike our past signings, fans will have the opportunity to meet Hulk Hogan in the order they purchased their tickets. The earlier you purchase them the earlier you meet him. No need to wait on line for hours, numbers will be called fans letting fans know when they should get on line. This way fans can experience all of the activities at the stadium and meet the other superstars instead of waiting on multiple hour long lines.
Tickets range from $75-$15 available right now! CLICK HERE to order tickets and learn how you can be part of our exclusive 24 Python Club. In tribute to Hulk's 24 inch biceps we are offering special autograph, t-shirt and photo op and ticket packages to 24 lucky fans.
Local ticket outlets in the Hudson Valley area will be announced on June 1st.
Questions? Please contact us at newwrestling@yahoo.com.
ALSO APPEARING:
Making his wrestling Debut former NY Yankee Pitcher Joe Ausanio
Matt Hardy w/Reby Sky
Amy Dumas fka Lita
Mickie James
Jerry "The King" Lawler
NEW Champion Brian Anthony
"Hacksaw" Jim Duggan
"The Mouth of the South" Jimmy Hart
Matt Taven w/Kasey Ray
Luke Robinson, Romeo Roselli and many more superstars to be announced.
24 PYTHON CLUB
We are offering a special deal for all of Hulk's biggest fans. The 24 Python Club in honor of his 24 inch pythons.
This special VIP Package includes:
(5) Hulk Hogan Autographs
(1) Photo Op w/ Hulk Hogan
(1) Hulk Hogan T-Shirt
(2) Ringside Seats to Wrestling Under The Stars
Note: Club members will meet the Hulkster before he begins signing for other fans.
The price of this special deal is $500.00. Only 24 of these are available. These club tickets will go quick!
http://www.northeastwrestling.com/20120804.shtml